HIV/AIDS Awareness Red Ribbon Resale Service Project
December 1, 2020

-

December 31, 2020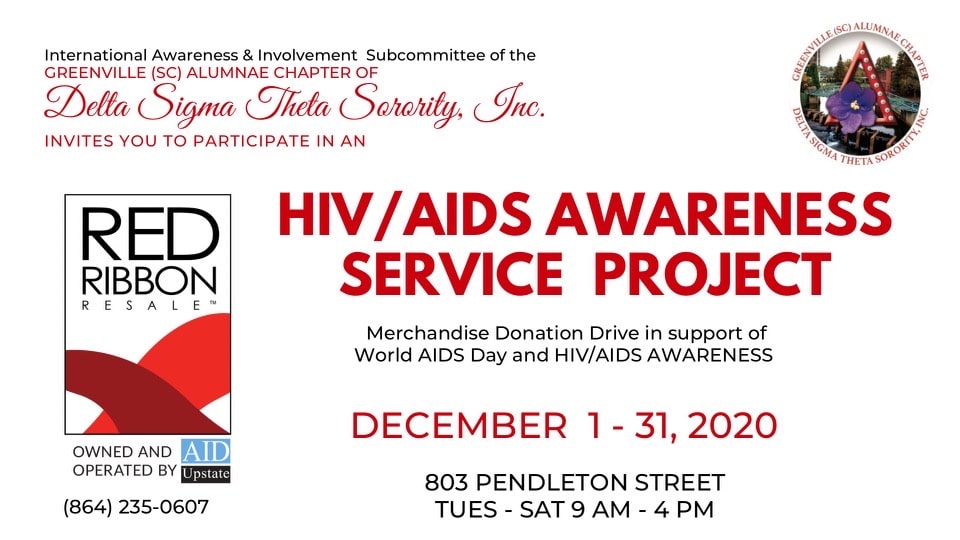 The Greenville (SC) Alumnae Chapter of Delta Sigma Theta Sorority, Inc. will sponsor a merchandise donation drive from 12/1/2020 through 12/31/2020. This drive will support World AIDS Day on December 1 and HIV/AIDS Awareness.
Red Ribbon Resale Store and AIDS Upstate are 501 (c)(3) non-profit organizations. Please support this project with your donated merchandise:
Donations accepted include: adult clothing, kitchen items, home décor, working flat screen TVs, etc.
Donations not accepted include: mattresses, computer equipment, and old TVs.
Please inform the Resale Store staff that the donation is for the Delta Sigma Theta Sorority, Inc. drive. Staff will provide a tax receipt and ask you to record your name/organization on our Donor List.
Masks covering the nose and mouth are required to enter the resale store.
Your donation is graciously appreciated!